Happy Friday, Blockfolians
The Lede
You thought this week couldn't get any better, didn't you?
A successful halving, reinforcing the narrative of bitcoin's monetary policy predictability compared to central banks gone wild.

A BTC price creeping towards $10k

Successful token sales for new projects like Celo
But THEN J.K. Rowling, Ms. Harry Potter herself waded into our little corner of the world.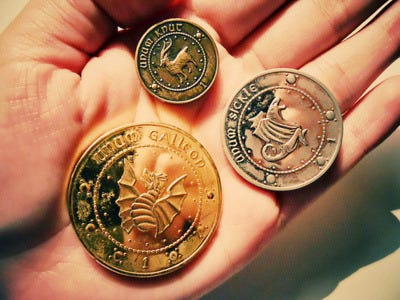 It also started here:
Low and behold, this happened:
Bitcoin Twitter was happy to oblige.
As usual, Cobie summed it up perfectly.
Soak it in, folks.
Enjoying Blockfolio's Market Refresh? Sign up to have it delivered every day.
---
Highly Relevant Reading
---
Community Commentary
Investor Spencer Noon kicks up an interesting conversation around a hypothetical
(Unlikely) Hypothetical: Bitcoin has failed — what does the market later recognize as the new #1 store of value coin?
A new form of wrapped BTC is live!
---
A Really Big Number We Should Be Paying Attention To
31
That's the number of European nations that can use Crypto.com's new crypto-to-fiat card
---
Final Thought
I mean, hell yes.